There is such a wonderful, insightful, and ingenious quote by Ralph Waldo Emerson that I try to keep firmly rooted in my subconscious when creating photographs. "People only see what they are prepared to see."  During the summer of 2014 I had the opportunity to take a group of students from Brooks Institute to the Musée du Louvre while we were studying in Paris.  Visiting the Musée du Louvre and seeing the Mona Lisa is one of those opportunities that everyone should have on their bucket list. When we entered the room where the painting is displayed we soon realized that seeing the Mona Lisa was on everyone in the world's bucket list too.  Some of the students were so turned off by the insanity that they almost bypassed the room entirely.  With a little mental preparation and persuasion we entered the back of the room and very, very slowly made our way towards the painting.

I have always found it fascinating photographing people observing and reacting to art.  I captured quite a few images of this mass pilgrimage procession of art seekers as we made our quest for the front of the room.  Upon finally reaching the railing protecting the Mona Lisa I took my obligatory photo of her and then for a brief moment I listened to my subconscious telling me to turn around. It was as if my inner self intuitively shouted" turn around", reminding me to always look beyond what I was expected to see. The split second I turned around and viewed the world from the Mona Lisa's point of view I knew I was privilege to photograph something so obvious and special that few were prepared to see.
With both hands I raised my Sony Alpha a6000 above my head and with the 10-18mm f/4 zoom set to 10mm I tried to capture the sea of humanity that was descending upon the painting. I was able to fire off a few frames from Mona Lisa's point of view before being whisked away through the protective railing and out of the room.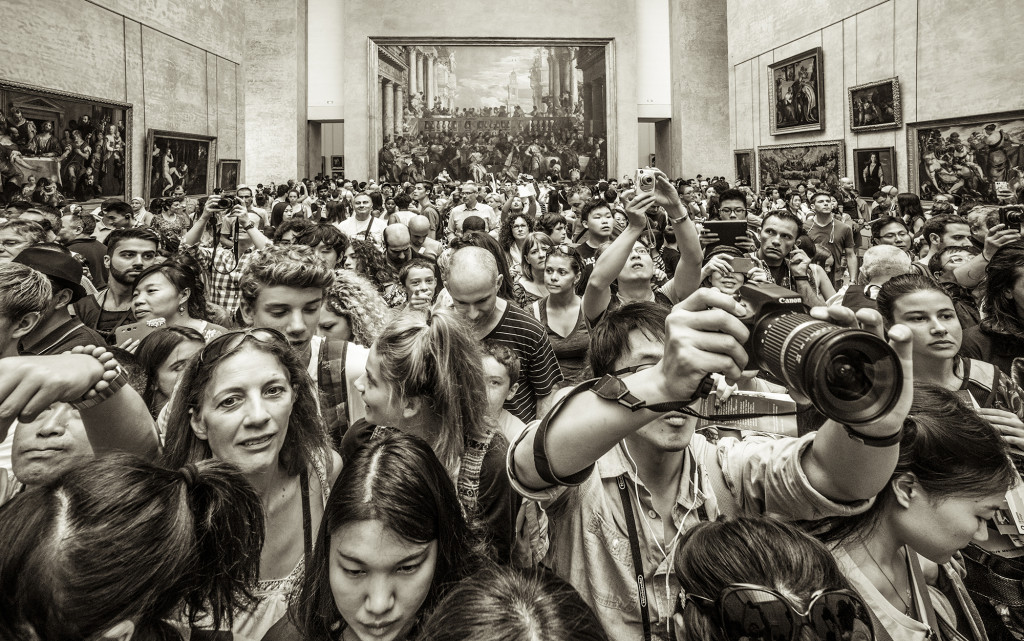 From the moment I opened up the file on my computer I knew instantly that the image needed to be converted into a very large warm toned black and white print.  Working in black and white visually allowed for the conveyance of the idea that the people in the room were flowing out of The Wedding Feast at Cana painting by Veronese located at the rear of the room.  I made myself a 24×40 inch print that I put directly above my desk that still makes me remember how my jaw dropped the moment I turned around and witnessed the world from Mona Lisa's point of view.
Christopher Broughton
Always look behind yourself when you are photographing, your jaw might just drop!