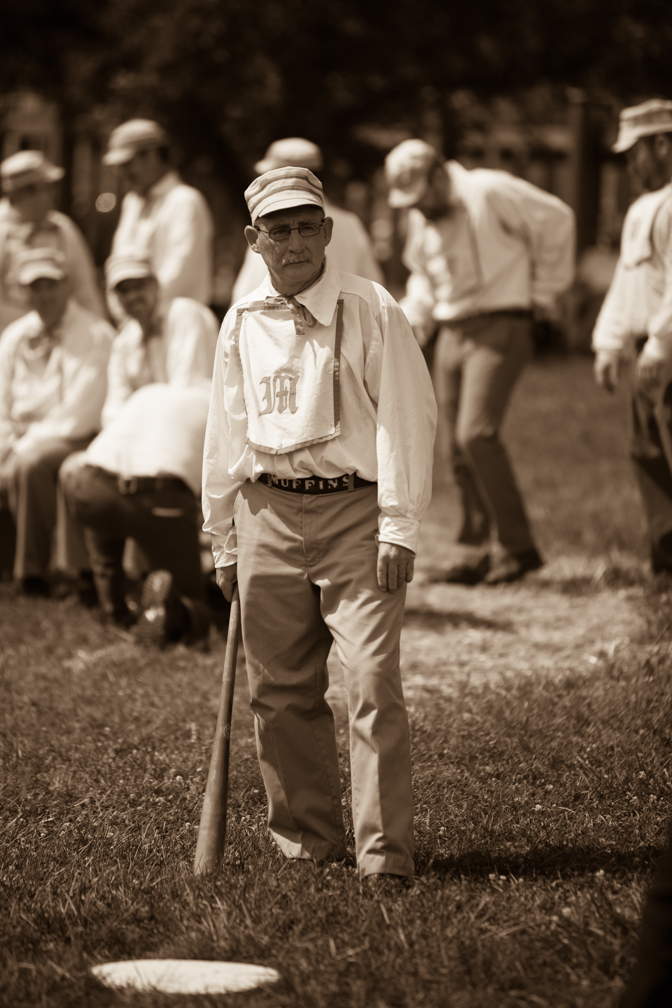 As a typical photographer, I'm interested in anything retro, classic, or just plain old…..so when I found out about a Vintage Baseball Game being played near me, I just had to go and check it out….
When we moved to Ohio last year, I was perusing some of the local magazines and I came across an event notice for a Vintage Baseball League tournament for fall of 2017. It sounded like an amazing chance to get some very interesting photos…..
As the event drew near, I ended up making plans to travel over that weekend, and so I had to do some research to find out when other games were being played. As luck would have it, the weekend that I was able to get to a game, the temperature was in the 90's, with the humidity about the same 🙁
After one false start (I showed up looking for the game on Saturday, then found out it was being played on Sunday), I was able to make it to the game. There were a few fans, mostly friends and family of the players…..and an umpire and scorekeeper that were dressed in the same 1860's vintage clothing as the players. The players were dressed in wool jerseys and caps, with various types of pants and some wearing modern cleats. In the field the players didn't use mitts, and the ball was pitched underhand (These were the major league rules in the 1860's. Overhand pitching came in around the 1890's). It is mostly a gentlemans game, with good plays being heralded by both sides. There were a few younger players, but my focus was mostly on the older gentlemen that looked more the part of a vintage league player.
The gentleman pictured here certainly looked the part, and played really well too. As he was stepping up to the plate, I motioned with my camera in an unspoken question of taking his portrait as he got ready to bat. He nodded and hesitated for a second in the pose that you see.
I continued to shoot throughout the game….or at least as long as I could stand being in the heat with sweat literally dripping off me. It was really fun watching these guys play on older brand of "gentleman" baseball, and refreshing to see a group of people dedicated to keeping a tradition like this alive.
Thanx for listening!