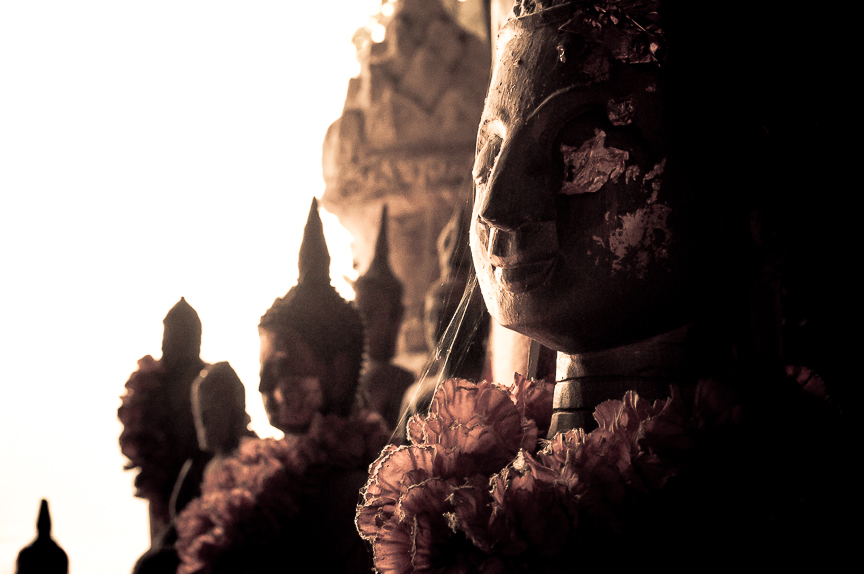 In 2013 I traveled to Southeast Asia for about a month. It was my second time in Southeast Asia. The plan for this trip was to explore a bit more of Thailand, then head to Laos and Vietnam for most of the trip. Laos was probably one of the best Countries I've ever been to. I arrived in Luang Prabang and immediately fell for this sleepy little town. One day I decided to take a boat to the Pak Ou Caves north of Luang Prabang. I arranged for the round trip boat ride and went to the river to find my boat. It was an interesting morning. I was shuttled from boat to boat, and finally told that I should stay on the final
boat they put me in. I was confused by the entire process but ultimately decided that these guys must know what they are doing. I was on a boat with about 10 other people, and we were off.
It was beautiful scenery down the river. The boat was a bit uncomfortable and noisy, but I was loving it all. After about an hour I started to get nervous. I thought for sure we should have been to the caves after an hour. No. Then another hour passed and I thought maybe I got on the wrong boat. Started to get more nervous. Then we finally came upon the caves. I knew I was in the right spot because there were a lot of tourists around. I climbed the steep stairs to the lower cave and was immediately surprised by
the hundreds of Buddha's placed everywhere in this cave. It was really dark, but I managed to get some great photographs. Then I made my way up, what seemed like 200 stairs, to the upper cave. That cave had less Buddha's in it, but still very impressive. It is an amazing spot, for sure.
I managed to get this photograph in the lower cave. I loved the way the light was coming in and barely illuminating the gold on one eye. I also loved the cobwebs backlit from the sunshine coming in to the edge of the cave. After getting some photos, it was back on the boat for another 2 hour ride back to Luang Prabang. It was a great day in Laos. One of my most memorable experiences from that trip.
Chris Klinge